Welcome to Cafe Melissa in Avon Lake
Cafe Melissa is looking for energetic and goal oriented individuals to join our servers. Please call Cafe Melissa at 440-961-0072 to schedule an interview or stop in Monday-Thursday between the hours of 2pm-5pm.
WEEKLY SPECIALS
MONDAY
SOUP: seafood bisque
LUNCH: ham and vegetable wrap
DINNER: blacken shrimp and scallops
TUESDAY
SOUP: seafood bisque
LUNCH: chicken parmesan sandwich
DINNER: almond crusted mahi mahi
WEDNESDAY
SOUP: butternut squash
LUNCH: tuna nicoise
DINNER: chicken breast stuffed wih lemon and cilantro
THURSDAY
SOUP: butternut squash
LUNCH: chicken breast sandwich
DINNER: spicy pork ribeye
FRIDAY
SOUP: cream of potato
LUNCH: chicken breast stuffed with ricotta and cilantro
DINNER: 8oz filet
SATURDAY
SOUP: cream of potato
BRUNCH: italian sausage and vegetable omelette
DINNER: ribeye with mashed potatoes and squash
SUNDAY
SOUP: french onion
BRUNCH: chorizo omelette
DINNER: seafood pasta with garlic,white wine cream sauce
Menu
Brunch | Lunch | Dinner | Dessert | Kids
Hours
Monday - Thursday: 11:00am - 9:00pm
Friday: 11:00am - 10:00pm
Saturday: 9:00am - 10:00pm
Sunday: 9:00am - 9:00pm
BRUNCH
9:00am - 2:00pm Saturday & Sunday only
Jobs
We are a restaurant that is focusing on the best possible service standards. If you have a great service background, a positive attitude when you come to work, and are a great team player, then you are who we are looking for.
We are also looking for applicants that know food, know wine, and have general bar knowledge.
Download the application »
Download a shift availability form »
Return filled out apps to sweet melissa. No phone calls, please.
Gift Cards
Surprise a friend or family member with a cafe melissa gift card.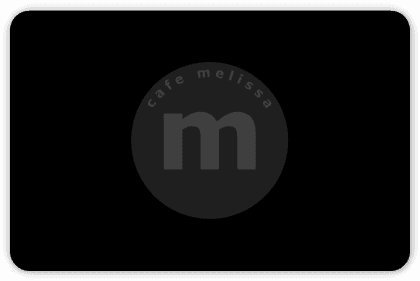 Location
32950 Walker Road
Avon Lake, Ohio 44012
Phone: (440) 961-0072
Contact Us
You may contact us at info@cafemelissa.com, or simply provide your information in the following form.
(*) - Required field