Welcome to Cafe Melissa in Avon Lake

JOIN US FOR HAPPY HOUR!
EVERY SUNDAY THRU THURSDAY 3-6PM
1/2 PRICE APPETIZERS
$4 WINES
$2 DOMESTIC BEERS
WEEKLY SPECIALS- 8.22.16-8.28.16
MONDAY: $4 COSMOS
SOUP: CHICKEN VEGETABLE

LUNCH: BLACK AND BLUE BURGER

DINNER: CHICKEN AND SHRIMP WITH WILD RICE
TUESDAY: 15% OFF CARRYOUT
SOUP: CHICKEN VEGETABLE
LUNCH: CHIPOTLE BURGER
DINNER: SEAFOOD PASTA
WEDNESDAY: 1/2 PRICE BOTTLES OF WINE
SOUP: BUTTERNUT SQUASH
LUNCH: PHILLY STEAK SANDWICH
DINNER: SHRIMP AND SCALLOP RISOTTO
THURSDAY:
SOUP: BUTTERNUT SQUASH
LUNCH: CHICKEN CLUB WRAP
DINNER: BLACKEND SHRIMP & SALMON W/ CILANTRO RICE
DINNER:
FRIDAY:
SOUP:
LUNCH:
DINNER:
SATURDAY:
SUNDAY:
Menu
Brunch | Lunch | Dinner | Dessert | Kids
Hours
Monday - Thursday: 11:00am - 9:00pm
Friday: 11:00am - 10:00pm
Saturday: 9:00am - 10:00pm
Sunday: 9:00am - 9:00pm
BRUNCH
9:00am - 2:00pm Saturday & Sunday only
Jobs
We are a restaurant that is focusing on the best possible service standards. If you have a great service background, a positive attitude when you come to work, and are a great team player, then you are who we are looking for.
We are also looking for applicants that know food, know wine, and have general bar knowledge.
Download the application »
Download a shift availability form »
Return filled out apps to sweet melissa. No phone calls, please.
Gift Cards
Surprise a friend or family member with a cafe melissa gift card.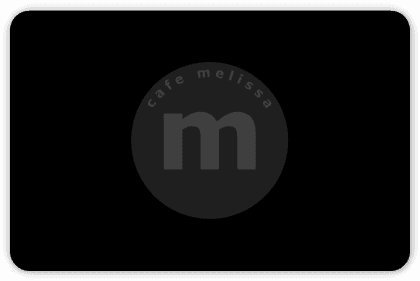 Location
32950 Walker Road
Avon Lake, Ohio 44012
Phone: (440) 961-0072
Contact Us
You may contact us at info@cafemelissa.com, or simply provide your information in the following form.
(*) - Required field